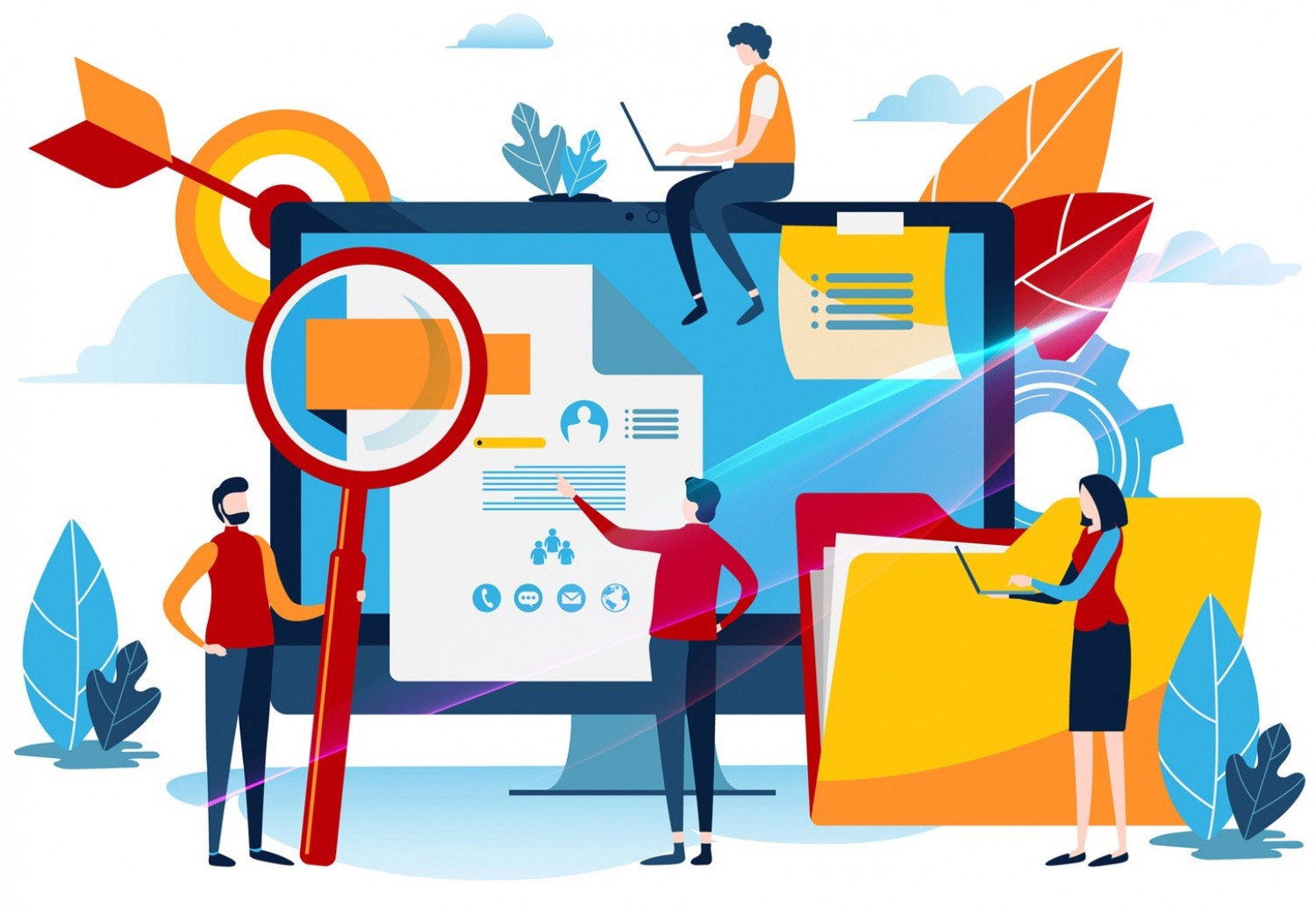 Smart Integration Cloud Workflows
Document Management Services in Buffalo, Batavia & Rochester



Smart Integration Cloud Solutions
Turn your multifunction printer (MFP) into a document workflow powerhouse with Smart Integration workflow solutions. If you've ever had to scan, email, download, convert, save to a folder, upload or organize files, you know how time consuming these manual tasks can be. Save time, improve productivity and automate repetitive workflow tasks with the push of a button. Now you can quickly route your documents to the right place, in the right format and with the right file name. Choose the document management service that works best for you:

Essentials - scan to email and mobile printing
Connectors - adds basic scanning to cloud accounts
Workflows - adds advanced scanning to cloud accounts and/or local folders
Advanced Workflows - adds intelligent scan to SharePoint®

Download Brochure
Sends documents to the right location, in the right format and with the right file name
Automates repetitive manual document tasks to save you time
Low monthly investment - no new hardware, servers, IT support or maintenance required
Device Enhancement add-on helps protect document privacy, reduce waste and increase device up time
Legal add-on improves law firm productivity with Court efiling and Bates Stamping
Healthcare add-on simplifies patient onboarding while helping protect patient privacy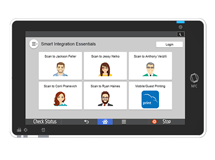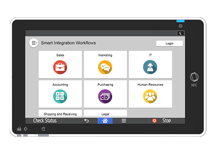 1. Smart Integration: Essentials
---
Smart Integration Essentials simplifies two of the most common document management processes: scanning to email and printing files from a tablet or mobile device.


Scan to email - no configuration required
Print documents from mobile devices or tablets with secured release
Convert hardcopy documents to editable and searchable formats with optical character recognition (OCR)
2. Smart Integration: Connectors
---
Smart Integration Connectors adds the ability to scan to and print from cloud accounts (such as Box™,Dropbox™, Google Drive™ OneDrive® for Business, SharePoint® or RICOH Content Manager).


Scan to cloud accounts in editable and searchable formats
Print documents stored in the cloud from your tablet or smartphone
Optional add-ons available: Device Enhancement, Legal and Healthcare
3. Smart Integration: Workflows
---
Smart Integration Workflows adds workflow capabilities so you can get your files to the right location, in the right format and with the right file name with automated scanning processes.


Scan directly to folders (cloud or on-premise) with automated file and folder namingSimultaneously route files to multiple destinations
Auto-route documents using QR codes
4. Smart Integration: Advanced Workflows
---
Smart Integration Advanced Workflows increases automation though document classification and routing and includes advanced integration with SharePoint.


Automatically routes to destinations based on document type
Scan to cloud folders, local folders or a document library in SharePoint Online®
Scan to SharePoint Online®, with metadata fields automatically populated
Smart Integration Optional Paid Add-Ons
---
RICOH Smart Integration solutions can expand to fit your unique needs. If your industry or business processes require additional functionality or features, our optional Smart Integration add-ons have you covered.


Device Enhancement add-on - Help protect document privacy with device-level authentication (including card authentication). Send documents to a secured print queue and release from any device in the group when ready. View device counters and stay on top of toner replacements with device management tools. Understand how devices are being used with utilization reporting features.
Healthcare add-on - Reduce manual data entry errors and improve staff productivity. Automatically create a new DrChrono patient record by scanning a driver's license. Add consent forms, referrals and other documents to a patient's EHR record in a single step - no need to scan to a PC, save and upload in multiple steps.
Legal add-on - Improve law firm productivity by automating mundane manual tasks. Easily prepare documents for court efiling in the appropriate file formats and sizes. Automatically give scanned documents unique identifiers with Bates Stamping - just set the starting number.
Deliver True Digital Productivity & Save Time with a Cloud Connector Package

Leverage your Ricoh Multi-Function Printer to simplify document related processes. Whether you are looking to convert documents to digital format, scan to email, scan directly to cloud services (such as Box™, Dropbox™, Google Drive™, SharePoint™, RICOH Content Manager and more) or scan directly to folders on your local network, Ricoh Smart Integration can streamline the process.

With a Cloud Connector Package you can easily scan a file, turn it into readable text and send it to an email address, cloud account or print queue. Our document management services support point to point direct scanning into more than 20 business cloud accounts - including Box ™, Dropbox™, SharePoint® , OneDrive® and more.

Discover a Document Management System That Works for You

To learn more about our document management services, get in touch with our team today. We can help you streamline your workflow so you can transform your business and improve efficiency. Each year, more and more businesses throughout Buffalo, Rochester, Batavia and the rest of the country are choosing our innovative services!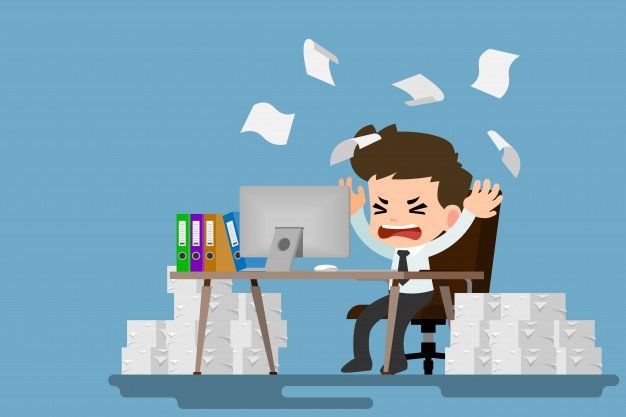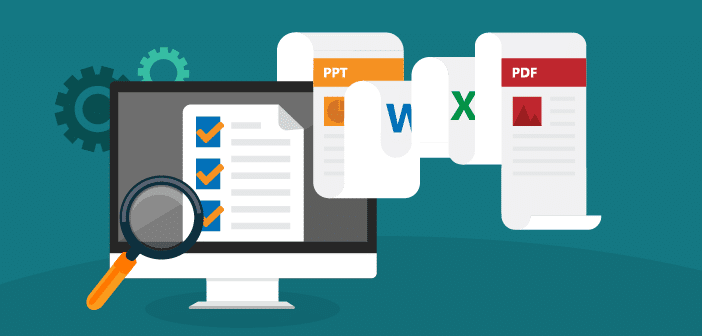 We serve clients in The Greater Buffalo area, Rochester, Wyoming/Niagara/Erie Counties & all throughout Western New York.